About Wyldwood Bayou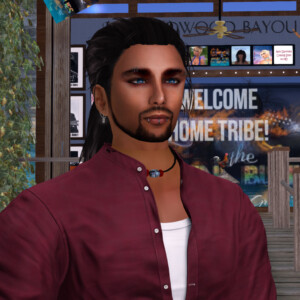 Welcome to Wyldwood Bayou, home of the Blues Tribe and Rockin' the Blues!! Our mission is to be a hypergrid destination, a place where people come to have fun. We don't have local users other than grid staff. We are not affiliated with any other grid. We also host two fabulous Medi/Fantasy role playing groups; Ravenquest and Brigantia Isles. With 9 (4x4 regions), this RP HUB has lots to offer. Fantastic role play, and a relaxed culture, you are bound to find a RP home here.
Wyldwood Bayou is in the heart of the Louisiana bayou, offering you a hangout that is peaceful, drama free and abounds with fun, friends and fabulous Blues!! You'll hear many genres of blues here including blues rock, electric, old school and contemporary. If you don't already love the blues, our awesome DJs will help you fall in love with them! We're open 24/7 playing our favorite Blues Music Fan Radio (BMFR) station when not spinning live tunes.

Our events run Friday through Monday nights beginning at 6:00PM PST as well as Sunday at 9AM PST. Curl up in a comfy chair or dance til' you drop, you are always welcome here!
You will also find Rockin' the Blues' sister clubs, Hot Daddy's Dance Dock which is on Mondays only, with DJs Choice of music and theme parties, The Bayou Belle, home to our famous Sunday Morning Brunch with DJ Kith and a "chill" set of amazing Blues, and Lady Blue, our once a month, last Friday "Dirty Blues" Venue that is X-Rated and where the laughter never stops!
Our goal since our inception is to provide our "Tribe" members and visitors with a fun, safe and entertaining place to party, relax, and make new friends! Rockin' the Blues was established in Inworldz in 2012 by Kira Whitehawk. Kith and Kira brought us to Opensim in 2018 for our 7th Anniversary.
Kira left this Earth in January of 2019, but remains in the hearts of her Tribe and is the soul of the Bayou.
Myself and the RTB Staff endeavor to continue Kira's vision by bringing you the best blues, a safe and inclusive atmosphere where all are welcome to enjoy great music, build lasting friendships and create memories that will last a lifetime.
Come join us in our new home, lets "Keep on playing the blues". (Kira Whitehawk).
Very best Regards,
Kith
See you on the Bayou!!!

**Please note that we do not allow child avatars on our grid.